News
Wines of Portugal Challenge 2022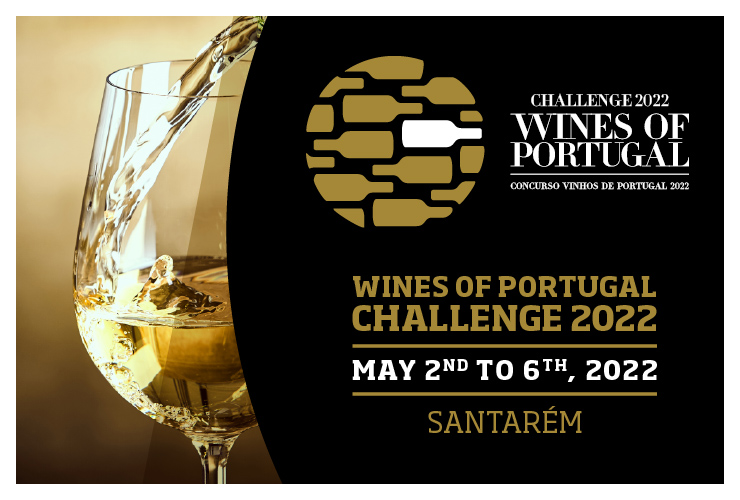 The 9th edition of the Wines of Portugal Challenge received more than 1450 entries, the highest number since the initiative was launched.  The winners will be revealed at the Awards Dinner and Ceremony to be held on May 6, at the Convento de São Francisco in Santarém.
The 1st phase of the Challenge will take place on May 2nd, 3rd, and 4th at CNEMA in Santarém, where there will be technical tasting sessions from 9am to 1pm. During this period, the producers will be under the scrutiny of the Regular Jury, made up of 109 specialists, 86 national jurors and 23 international jurors from the sector, including oenologists, sommeliers, journalists, wine educators, and others. During these three days there will also be Masterclasses, wine dinners an visit to wine producers.

On the 5th and 6th of May, the Grand Jury will meet for the 2nd phase of the Wines of Portugal Challenge 2022, an will choose the Great Gold Medals and the "Best of the Year" wines. The winners will be announced on the 6th of May at the Convento de São Francisco, in Santarém, at the Dinner and Awards Ceremony. To register, simply contact the organization through the official website https://www.concursovinhosdeportugal.pt/index.php?lang=en


This ViniPortugal / Wines of Portugal initiative will distinguish, for the 9th consecutive year, the best national wines for their diversity and quality, guiding and motivating producers to launch differentiating wines of excellence and that also contribute to positioning Portugal as a reference producer in export markets. In this context, and as in previous editions of the Challenge, Viniportugal will also guarantee the presence of the winners of Great Gold and Gold" medals at international Wines of Portugal events this year.

Alongside the distinction of the best wines on the national market, the Wines of Portugal Challenge is a meeting point between national and international wine specialists who, for a week, share experiences and create synergies between them.