News
William Wouters eleito presidente da ASI, Association de la Sommellerie Internationale
Outras Notícias
18 November 20

O belga William Wouters foi eleito novo presidente da "Association de la Sommellerie Internationale" (ASI).
O belga William Wouters foi eleito novo presidente da "Association de la Sommellerie Internationale" (ASI). A votação teve lugar durante a Assembleia Geral anual da associação. Wouters já é uma figura conhecida dentro da organização, como membro do Conselho da ASI, Presidente Nacional e participante em competições de sommeliers. Ao ouvir os resultados, ele disse: "O que é importante agora é trabalharmos juntos para melhorar a ASI como comunidade e como instituição. A minha equipa e eu estamos prontos!" Wouters sucede ao presidente cessante Andrés Rosberg, da Argentina, cujo mandato de três anos começou em junho de 2017.
Wouters terá em seu mandato de três anos uma Comissão Executiva composta por rostos novos e antigos. Peer F. Holm foi escolhido como Secretário-geral da ASI, Julie Dupouy-Young como Secretário-geral Adjunto da ASI, Philippe Faure-Brac como Tesoureiro da ASI e Samuil Angelov como Tesoureiro Adjunto da ASI.

Uma lista completa de vice-presidentes também foi eleita: Saiko Tamura-Soga (Japão) para a Ásia e Oceania, Michèle Aström Chantôme (Marrocos) para a África e Oriente Médio, Piotr Kamecki (Polónia) para Europa e Marcos Flores Tlalpan (México) para as Américas. Os Vice-Presidentes da ASI são os principais responsáveis pela coordenação das associações em cada continente ou área geográfica.
Devido à pandemia, a Assembleia Geral da ASI foi realizada pela primeira vez totalmente online. Duas plataformas eletrónicas, uma para reunião e outra mais segura para votação, foram utilizadas para o evento. Um advogado qualificado esteve presente no Chipre, o "país anfitrião", para garantir que a versão online estava em conformidade com o estatuto da organização. Um moderador neutro guiou os participantes durante os eventos, apresentando os candidatos e as perguntas em francês e inglês.
A AG também apresentou o trabalho das suas várias comissões, nomeadamente Relações Públicas, Comunicação e Marketing, Ética e Conformidade, Comissão de Competição de Sommeliers, Educação, Exame de Certificação e Estatutos. Informações detalhadas sobre essas apresentações e seus votos estão disponíveis na página de Internet da ASI em asi.info.
(Press Release enviado pela ASI)
Lastest News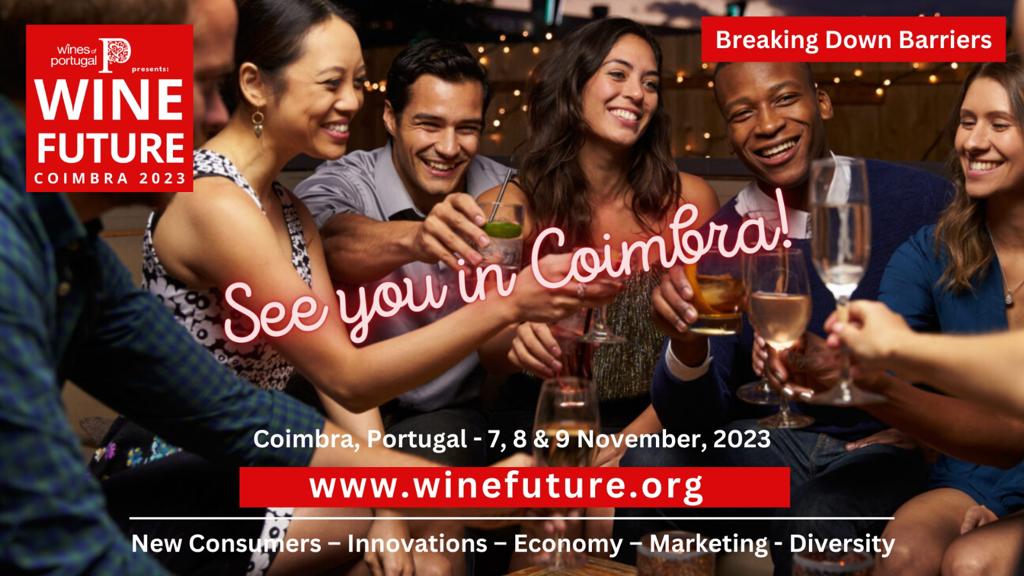 Ações em Portugal
31 October 23
Wine Future November 7th to 9th 2023
The 4th edition of Wine Future, which will take place between the 7th and 9th of November this year, will be held at the Convento de São Francisco in Coimbra. This 2023 edition is being co-organised by Wines of Portugal and Chrand Events. "Breaking Barriers" will be the theme of this, the largest meeting dedicated to wine held in Portugal, presenting participants with some of the most influential and respected names in the world of wine, but also with illustrious personalities from other sectors and even voices from competing industries.

Tickets can be purchased on ticketline: https://ticketline.sapo.pt/en/evento/wine-future-2023-75233
Read more