News
VINHOS PORTUGUESES CONVIDAM À EXPERIÊNCIA EM MUNIQUE
Press Release ViniPortugal
27 September 13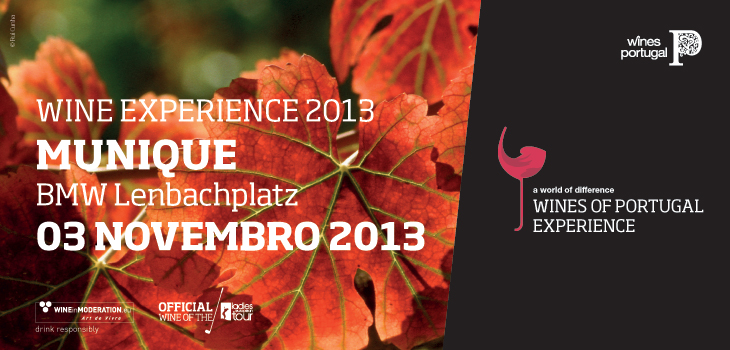 BMW recebe prova de vinhos no dia 3 de Novembro, a partir das 12h, em Munique na Alemanha
A BMW de Munique é o palco escolhido para a realização da Wines of Portugal Experience, no próximo dia 03 de Novembro, entre as 12h e as 18h. Uma prova sofisticada e organizada num ambiente de muito glamour, aliada à marca alemã com sede na capital da Baviera, com o objectivo de afirmar os vinhos portugueses e cativar o interesse e a atenção do público alemão.
Para Jorge Monteiro, presidente da ViniPortugal, "É importante a promoção dos vinhos portugueses em Munique, pois esta é uma região que se destaca pelo elevado poder de compra e pela apetência dos seus habitantes pelo vinho e pela gastronomia. A par, a Alemanha mantém-se como um dos maiores importadores mundiais de vinho e revela-se prioritário para as exportações, posicionando-se como 7º destino da exportação de todos os vinhos portugueses e o 2º de vinhos tranquilos, com um crescimento de 11,7% do valor das exportações em 2012."
"A ViniPortugal reinveste neste evento na maior cidade da Baviera e terceira maior da Alemanha, graças ao sucesso da edição de 2012 da Wines of Portugal Experience na BMW, tendo-se realçado a elevada qualidade dos públicos presentes e interesse demonstrado pelos vinhos portugueses." acrescenta o mesmo responsável.