News
Provas "Wines of Portugal" levam mais de 100 produtores a Zurique e Genebra
Press Release ViniPortugal
18 October 18

Vinhos portugueses apostam no mercado suíço
A qualidade dos vinhos portugueses vai ser dada a conhecer na Suíça com a realização de duas Provas "Wines of Portugal" em Zurique e Genebra nos dias 22 e 23 de Outubro, respetivamente. Mais de 100 produtores nacionais vão dar a conhecer os seus vinhos a profissionais do sector, jornalistas e consumidores. Identificar novas oportunidades de negócio e estreitar relações com os profissionais do mercado helvético são os objectivos centrais destas acções.
Para dar seguimento à trajectória positiva que os vinhos portugueses está a ter nesta geografia, a ViniPortugal promove a Prova "Wines of Portugal" no dia 22 de Outubro no X-Tra Hotel, em Zurique, em parceria com a revista Vinum. Este evento vai contar com a presença de cerca de 57 produtores portugueses, sendo esperada a visita de 300 visitantes, entre profissionais do sector, jornalistas e consumidores finais. Antes da prova, serão organizados seminários exclusivos para profissionais e para consumidores, com uma hora de duração, ministrados por Ursula Geiger, editora da revista Vinum.
No dia seguinte, 23 de Outubro, é a vez de Genebra receber a Prova "Wines of Portugal", que terá lugar no Richemond Hotel. Esta prova contará com a presença de cerca de 46 produtores portugueses, que darão a conhecer os seus vinhos a uma audiência estimada de 200 pessoas. A prova em Genebra inclui no seu programa uma Academia Vinhos de Portugal e um seminário, ambos conduzidos por David Scharzwalder, jornalista e especialista em vinhos de Portugal.
Identificada como um dos 14 mercados prioritários na estratégia promocional da ViniPortugal para 2018, que tem a marca "Wines of Portugal" como chancela, a Suíça apresenta uma crescente importância para os vinhos portugueses. De acordo com os dados do Instituto da Vinha e do Vinho (IVV), o mercado suíço representou em 2017, 29.210 milhões de Euros, o que representou um crescimento de 1.3%, face ao ano anterior.
Lastest News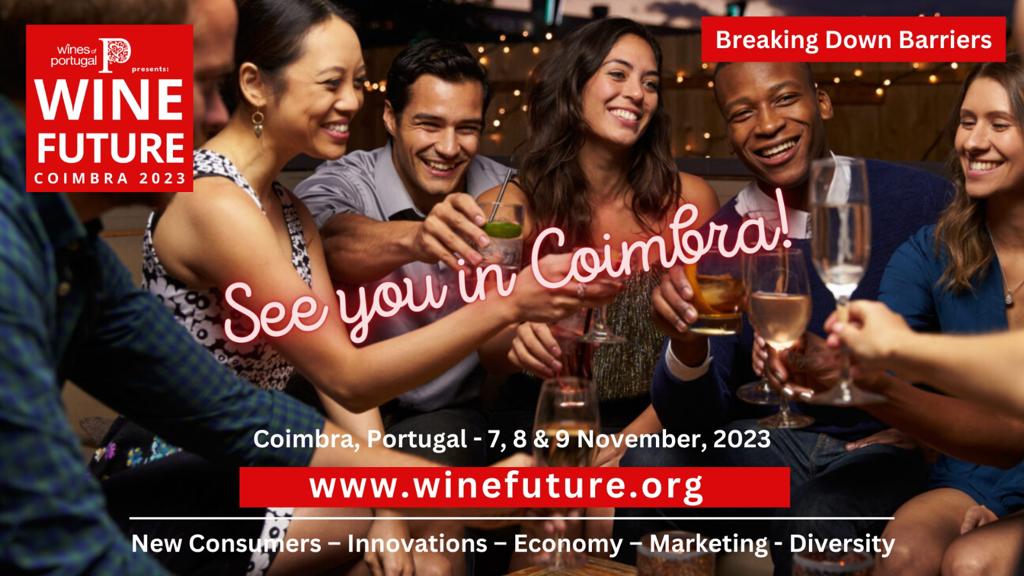 Ações em Portugal
31 October 23
Wine Future November 7th to 9th 2023
The 4th edition of Wine Future, which will take place between the 7th and 9th of November this year, will be held at the Convento de São Francisco in Coimbra. This 2023 edition is being co-organised by Wines of Portugal and Chrand Events. "Breaking Barriers" will be the theme of this, the largest meeting dedicated to wine held in Portugal, presenting participants with some of the most influential and respected names in the world of wine, but also with illustrious personalities from other sectors and even voices from competing industries.

Tickets can be purchased on ticketline: https://ticketline.sapo.pt/en/evento/wine-future-2023-75233
Read more