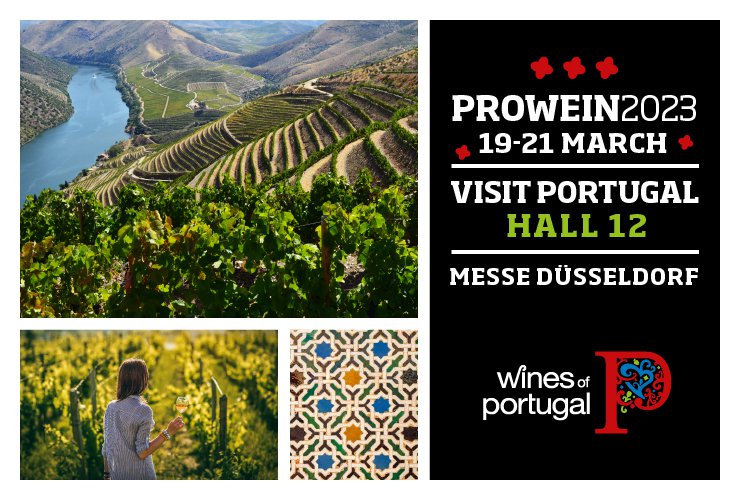 Event description
Ambitious goals and sustainable concepts among Portugal's winemakers
More than 170 exhibitors, tasting zone, 19 seminars & guided tours


January 2023 – the year of 2023 is set to be an important year for Portugal as a wine country. For the first time, the one-billion-euro mark is to be reached in global exports. For the German market, currently ranked 6th among export markets, Port wine (39 percent of the total value), wine from the Vinho Verde region (30 percent) and Douro region (12 percent) will continue to play the most important role. At the same time, the demand for emerging regions is also growing: Lisboa recorded the highest current growth rate in 2021 - up an average of 43 percent annually since 2017. Bairrada follows in second place with an annual increase of 38 percent. Self-confident, versatile and easily accessible, these and many other regions will present themselves at the large joint stand in Hall 12 at the most important industry get-together ProWein from March 19 to 21. A total of more than 170 producers, an extensive seminar program, individual stand tours and a tasting zone will give trade visitors an intensive look at the Portuguese world of difference.


Different climates and soils as well as more than 250 autochthonous grape varieties - The combination of these factors makes Portugal so unique and versatile. Trade visitors from retail or gastronomy benefit from the wide range of wines and wine styles. They will find suitable wineries and several exciting bottles for every budget and every customer. The changing enjoyment behavior and the increasing demand of sustainable and conscious consuming customers can also be extensively satisfied with Portugal's wine offer. "For example, more and more winemakers are looking at fresh, light wines with reduced alcohol content. Modern packaging as well as more sustainability in every step of wine production are other active fields of action that we observe among our winemakers," says Frederico Falcao, president of Wines of Portugal. He thus sees Portugal as a wine country well prepared for future challenges.
Thanks to the central Welcome Desk (12 A89), even interested trade visitors with no prior knowledge can quickly find their way around. Here you will find all the information about the exhibitors, assistance with orientation and help with planning the popular Guided Tours. Here, the Portugal experts take time to explore regions, grape varieties or wine styles together with visitors, depending on their wishes and needs. For this free VIP service a registration is requested in the apron under winesofportugal@organize.de.
Those who would like to get an initial overview of the current wines will find 120 award-winning, representative wines in the tasting zone (12 A89).


Directly at the stands A40, A59, A60, A70, B40, B60, B70 and B89, as well as at the individual stands of the regions Alentejo (12 D60), Bairrada (12 D50), Beira Interior (12 D58), Douro and Porto (12 E60, E70, F60, F70), Tejo (12 C40) and Vinho Verde (12 C60, C70) visitors will find the representatives of the wineries personally for individual discussions.
Renowned Portugal experts have again been recruited for the 19 seminars (12 A70) in 2023. Among them are well-known wine personalities such as Caro Maurer MW, Konstantin Baum MW, Portugal specialist David Schwarzwälder, wine author Christine Fischer as well as wine author Sebastian Bordthäuser and Carine Patricio, Best Sommelier Portugal 2020 and candidate ASI World Contest 2023. International experts represented by Rubina Vieira of the Madeira Wine Institute, winemaker Tiago Macena as well as Sofia Salvador as Wines of Portugal Educator are also part of the party. The topics have been chosen so that both Portugal connoisseurs and beginners will find what they are looking for.
The Seminar Programme can be found here.
The Tasting Booklet can be found here.