About Port Wine
Port Wine is distinguished from ordinary wines by its particular characteristics:
A huge diversity of types that surprise us in richness and intensity of aroma, a very high persistence of both aroma and flavour, a high alcohol content (usually between 19 and 22% vol.), a wide range of sweetness and great diversity of colours. There is a set of designations that allow the identification of the different types of Port Wine.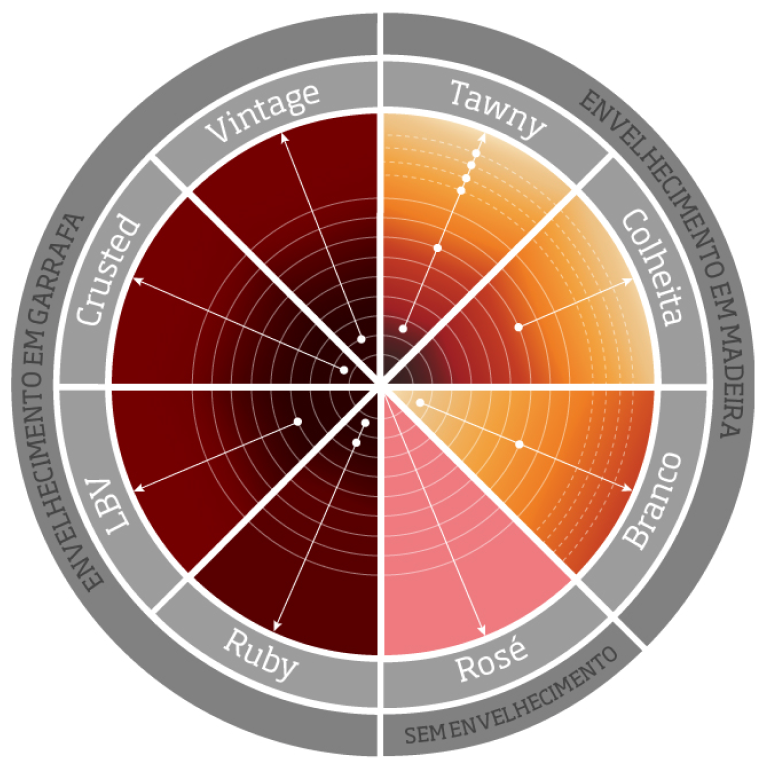 Vintage
Vintage is a wine of excellent quality from a single harvest. Considered the king of Port wines, it only represents a small percentage of the total production of this type of wine.
It is bottled between the 1st July of the second year and the 31st December of the third year after harvesting. It may be consumed immediately, however, it is usually stored in ageing cellars for a period that may last up to 40 years.
It is a full bodied red wine with a deep colour, but with bottle ageing it becomes softer.
The single-Quinta is a wine that goes through the same elaboration process as a vintage, but originates only from a farm (the big companies didn't consider the year good enough to be declared as vintage).
In Portugal, it is the Instituto dos Vinhos do Douro e Porto (IVDP) that recognises and classifies Port wines as "vintage".
In Portugal, it is the Instituto dos Vinhos do Douro e Porto (IVDP) that recognises and classifies Port wines as "vintage".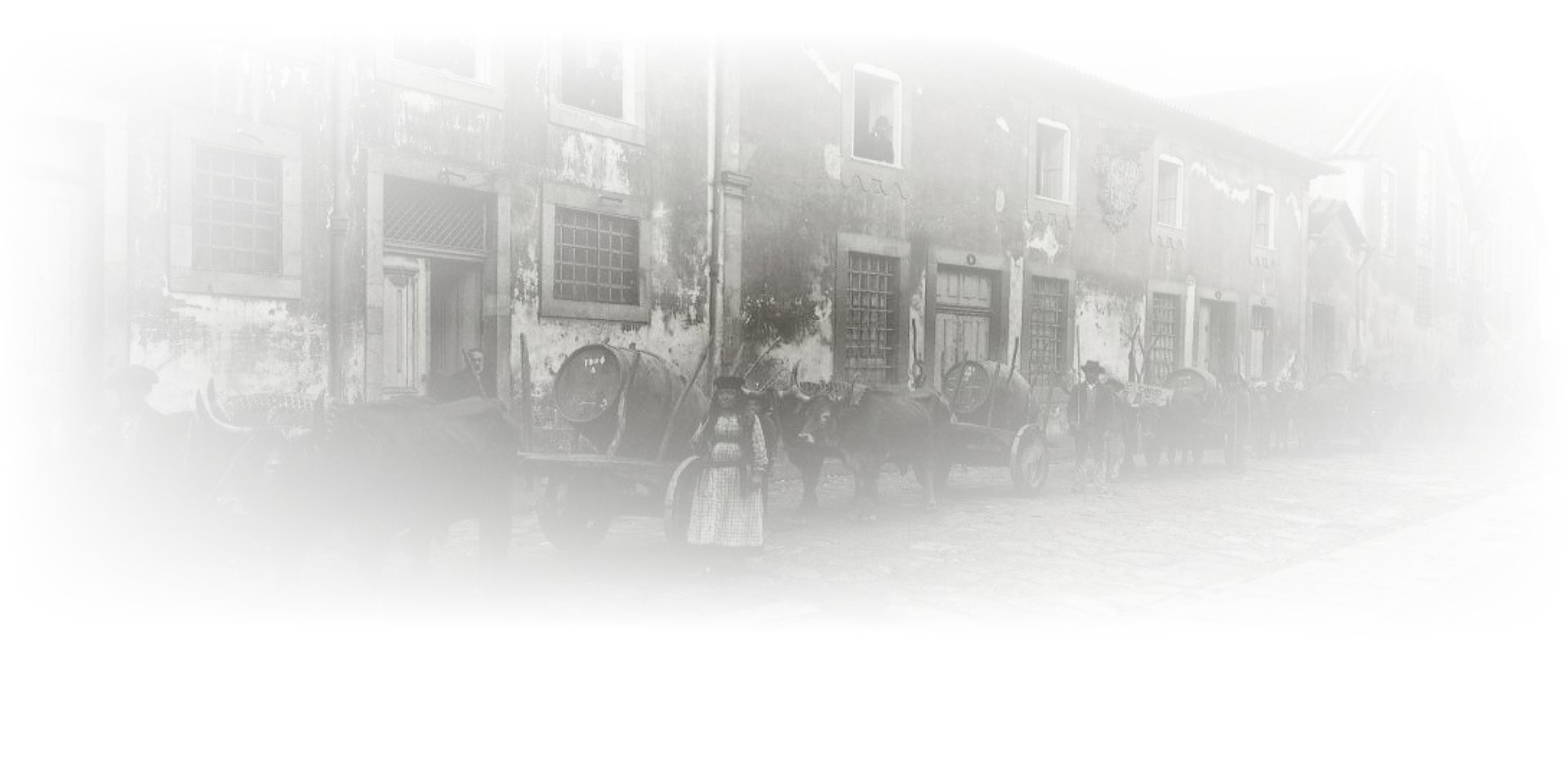 Other Denominations:
Port wines have different denominations according to the type of ageing.
White

White Port varies according to the degree of sweetness and ageing period. The younger Port wines are usually consumed as an aperitif, while those that go through a longer ageing period have a more intense flavour and should be drunk after meals. In terms of sweetness, white Port can be divided into Extra Dry, Dry, Sweet and Tearful.

White Reserve

It is a white Port Wine of very good quality obtained by blending and aged in wood for at least seven years. It has golden hues and a persistent taste.

Rosé

Rosé is a fresh, smooth and versatile Port, being a recent innovation in the universe of Port Wines. Its pink colour is obtained through a less intense maceration of red grapes and in which no oxidation phenomena are promoted during its conservation.

Ruby

Wine whose colour resembles the ruby gemstone because it has an ageing process with little or no oxidation (usually up to 3 years in wooden barrels). It is a young wine, rich in aromas reminiscent of red fruits, full-bodied and with a strong flavour.
Ruby Reserve

The Reserve category is applicable to Tawny and Ruby. Reserve Ruby are more aromatic, fruity and have a more complex structure than Ruby. The wine blends used in the production of Ruby Reserva are more carefully selected than those used in the Ruby category.

L.B.V. (Late Bottled Vintage)

Good quality Port wine with a good ageing capacity. It has a harvest date and is generally obtained from a blend of wines from that harvest. It is aged in large vats, oak casks or stainless steel tanks so that the oxidative evolution is extremely slow. L.B.V. is bottled between 31st July of the fourth year and 31st December of the sixth year after harvesting. The Late Bottled Vintage category also includes Bottle Matured Port. This Port is of high quality and ages in bottle for at least three years and may therefore create a deposit.

Crusted

High quality Port wine. It is obtained by blending wines from different harvests and bottled after 3 to 4 years of ageing in wood. Once bottled, its peculiar characteristics originate a deposit (crust) on the wall of the bottle.

Tawny

Port wine obtained from blends of wines, usually with an average age of three years and aged in oak casks. Therefore, it does not present the characteristics of oak ageing. During the ageing process, many rackings are performed to force the oxidation process and give the wine a golden colour.

Reserve Tawny

The Reserve category is applicable to Tawny and Ruby. Tawny Reserva wines have superior qualities to Tawny and their tonalities vary according to the winemaking processes: they may be red, close to ruby, or brownish similar to the colour of older tawnies. Reserve Tawny is obtained from the blending of wines with an average age of five to seven years.

Indication of age

Good quality Port wine with permission to use age designation. The indications of age are: 10 years old, 20 years old, 30 years old and more 40 years old. This is a Tawny Port obtained by blending wines from several harvests in order to bring together different organoleptic characteristics (colour, aroma and flavour). The ageing period in wood is variable and the age at which the wine is classified results from the approximate average age of the various wines that make up the blend (mixture of two or more grape varieties) used.

Harvest

Good quality Tawny Port from a single harvest. Before being bottled, it is aged for a minimum of seven years in wood. Although Tawny is not a blend wine, it is subject to rackings and topping up during its maturation process. During its ageing process, the young and fruity aromas oxidise and are transformed into a bouquet (set of aromas) where the aromas of dried fruits, wood and spices stand out.