News
258 MEDALHAS VALORIZAM O VINHO PORTUGUÊS
Press Release ViniPortugal
5 June 13

Cerimónia de entrega de prémios do Concurso Vinhos de Portugal no próximo dia 07 de Junho, pelas 19h30, no Pátio da Galé, em Lisboa.
O Concurso Vinhos de Portugal vai elogiar o vinho português na cerimónia de entrega de prémios, que será realizada na próxima sexta-feira, dia 07 de Junho, pelas 19h30, no Pátio da Galé, em Lisboa. São 258 medalhas que distinguem os melhores dos 1007 vinhos, número record de vinhos portugueses em concurso nacional.
Todas as regiões vitícolas nacionais estiveram representadas nesta prova: 188 Alentejo, 57 Bairrada, 64 Dão, 273 do Douro e Porto, 85 Lisboa, 73 Setúbal, 101Vinhos Verdes e 77 Tejo. Assinalável foi a participação de 88 vinhos fortificados: Porto, Madeira e Moscatéis
Na cerimónia serão entregues 125 medalhas de bronze, 81 de prata, 36 de ouro e 16 Grandes Ouro, culminando com a designação do Melhor Fortificado 2013 e Melhor Vinho 2013.
O Concurso Vinhos de Portugal 2013 constitui uma excelente montra do melhor que se faz em Portugal, mas constitui, sobretudo, um momento único pois nunca tantos vinhos portugueses estiveram num mesmo momento sujeitos a um tão vasto escrutínio de especialistas de vinhos estrangeiros, confirmando o bom momento que os Vinhos de Portugal atravessam.
Especial destaque merece o facto do Grande Júri por unanimidade ter considerado que todos os 52 vinhos apresentados para selecção da Grande Medalha de Ouro possuíam excelente qualidade
Lastest News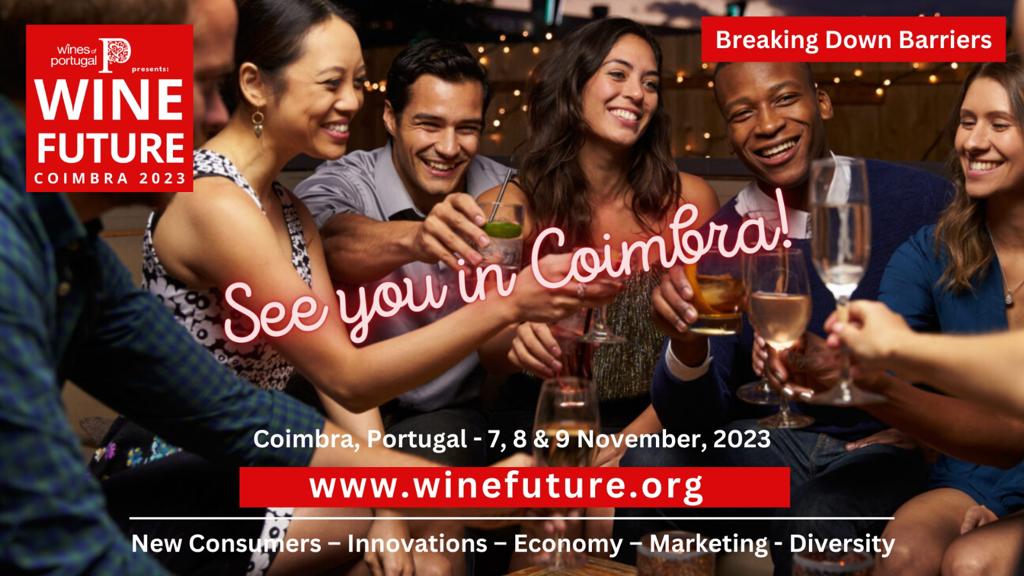 Ações em Portugal
31 October 23
Wine Future November 7th to 9th 2023
The 4th edition of Wine Future, which will take place between the 7th and 9th of November this year, will be held at the Convento de São Francisco in Coimbra. This 2023 edition is being co-organised by Wines of Portugal and Chrand Events. "Breaking Barriers" will be the theme of this, the largest meeting dedicated to wine held in Portugal, presenting participants with some of the most influential and respected names in the world of wine, but also with illustrious personalities from other sectors and even voices from competing industries.

Tickets can be purchased on ticketline: https://ticketline.sapo.pt/en/evento/wine-future-2023-75233
Read more