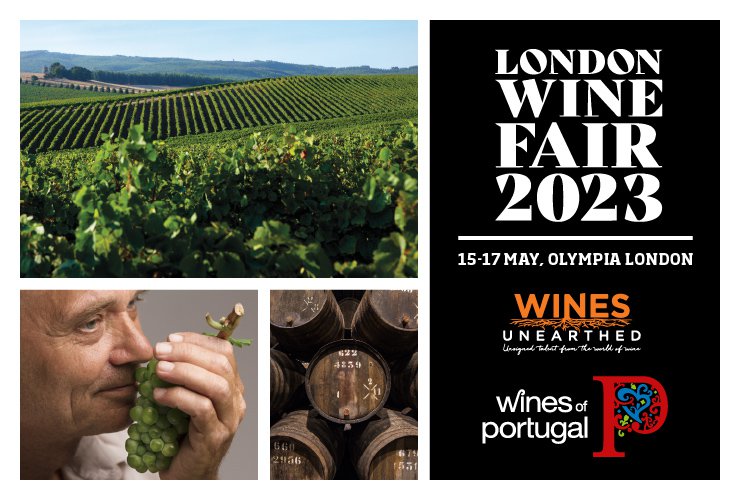 Event description
As part of the 2023 Promotion Plan and with the aim of identifying new business opportunities, Wines of Portugal will be present at the London Wine Fair, 2023 edition, in the space dedicated to producers without market distribution called "Wines Unearthed", which will be held from 15 to 17 May, in London, at Olympia. The day before the fair (Sunday, 14th May from 4pm to 5.30pm), there will be, as usual, the Road Map to Export Conference, which aims to provide producers participating in the fair with useful tools to prosper in the British market, as well as, tips on how to be successful.
The fair will be attended by about 12,000 professional visitors, including professionals from the on and off-trade. Wines of Portugal will also be represented by a 50-minute masterclass, presented by an expert in the market, in the official programme of the fair, with a maximum of 8 wines, in the masterclass area, for a maximum of 78 people, on a first come, first served basis.
What is the "Wines Unearthed" area?
"Wines Unearthed" is a specific space, created in 2015, at the largest and only fair for professionals in the UK - the London Wine Fair, dedicated exclusively to producers from all over the world looking for market distribution.
Why this presence of Wines of Portugal at "Wines Unearthed"?
To increase the distribution of the country's new brands and producers, still without market distribution, by participating in an event that provides contacts with buyers and importers looking for novelties;
Accompany small and medium-sized producers on this journey, which can be impressive in a market where there are already so many brands and where the paths are so diverse. Learning about the market and how it works will save time for producers who still have the energy and will to succeed;
Have Portuguese wines (and the Wines of Portugal brand!) present at the biggest event for wine professionals in the UK, in a space that makes sense and sends a signal of availability.