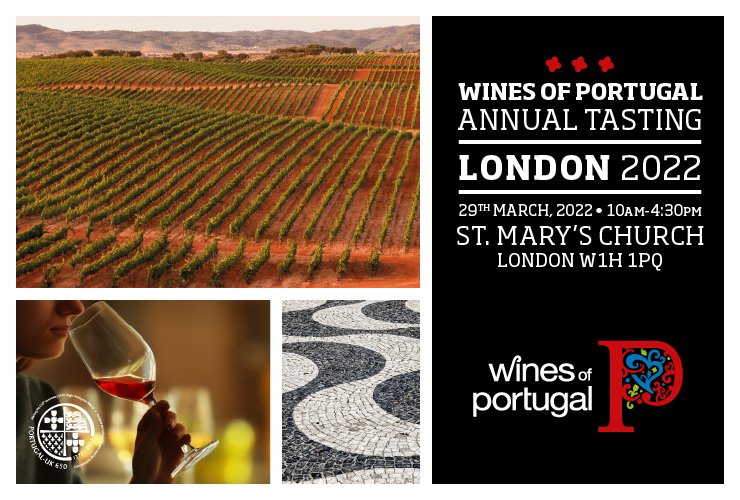 Event description
With the aim of identifying and creating new business opportunities for Portuguese producers in the UK market, Wines of Portugal will organize the Wines of Portugal Grand Tasting in London (exclusively for professionals – trade and press). ) on March 29 at St. Marys Church.
The places for this event are limited and preferably intended for producers with distribution in the English market, who will have the opportunity to contact around 350 On and Off trade professionals and 50 local press professionals.
As in previous editions, the event will feature masterclasses throughout the day and will be complemented by a free pour area, where relevant and strategic themes for Portuguese wines will be highlighted.
The tasting for professionals (from 10 am to 4.30 pm) will be followed by a tasting open to English consumers, which will take place in two sessions: from 5 pm to 7 pm and from 7.30 pm to 9.30 pm. This moment has the exclusive stamp of the "Three Wine Men", who will be associated for the second time with an event to promote the Wines of Portugal. The group of journalists, influential in the United Kingdom, has been organizing and promoting events with its own brand, and accepted to be associated again with an exclusive event of a wine country.
Oz Clarke, Olly Smith and Tim Atkin MW are the founders of the "Three Wine Men" which currently number five, with the presence of Susie Atkins and Tom Surgey.
The 300 final consumers with pre-purchased tickets will have access to a 100% Portuguese immersion, with the special presence of journalists, who will accompany those present throughout the event. It will also be the perfect opportunity for producers and their importers to be in contact with these LOPs and to make their products and/or projects known in a more informal, open and sharing environment.