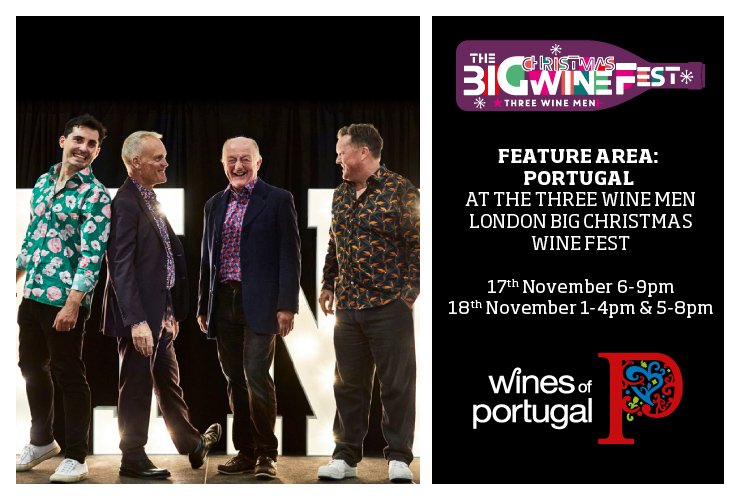 Event description
As part of the 2023 Promotion Plan, with the aim of increasing awareness and promoting the brands of producers present in the UK market, ViniPortugal will take part in this year's edition of the event for end consumers dedicated to Christmas, organized by the Three Wine Men group of journalists.


Who are the Three Wine Men?
They're still 3, but there are actually 5. It's a group of journalists with several members who are well known and loved by the public and whose members are great lovers of Portuguese wines. They are all Opinion Leaders and it is therefore very important to involve them with the Vinhos de Portugal brand.
The members of the group are:
Susy Atkins: escreve uma coluna semanal regular para a revista stella do Sunday Telegraph e é a editora de bebidas da revista delicious.
Tim Atkin MW: um dos principais escritores britânicos sobre vinhos e um perito internacionalmente reconhecido na matéria, tendo acabado de ser nomeado o quinto perito em vinhos mais influente do mundo.
Oz Clarke: é o escritor de vinhos mais popular da Grã-Bretanha. Conhecido pelo programa "Oz and James Drink to Britain", com o co-apresentador do programa "Top Gear", James May.
Olly Smith: aparece regularmente no programa Saturday Kitchen da BBC1 e tem uma série de créditos televisivos em vários programas de televisão. Está incluído na lista Debrett's 500 2015 - entre as 500 pessoas mais influentes do Reino Unido.
Tom Surgey: Pode ser ouvido regularmente como especialista em vinhos na rádio BBC Sussex e Surrey e é o principal apresentador da nova aplicação de vinhos Pingza. Recentemente, estreou-se no programa This Morning da ITV a apresentar vinhos.
To find out more about this group, please see their website: Three Wine Men - Oz Clarke, Tim Atkin MW and Olly Smith


The Three Wine Men London Christmas Tasting will take place on November 17th (Friday afternoon) and 18th (Saturday morning and afternoon) at Lindley Hall (London), in 3 separate sessions. The group has a database of more than 15,000 end consumers and expects to bring together 1,500 people over the 3 weekend sessions.
Final consumers will have to buy a ticket to attend, ensuring that visitors are people interested in wine. Journalists are present at all the sessions, talking to visitors and helping to promote the wines at the event. The event features tables dedicated to wine brands on the market, be they private labels, wine cellar tables, regions or countries.
The format for the presence of Portuguese wines includes the participation of 19 adjoining Wines of Portugal tables. There will also be a 40-minute masterclass in each session, so 3 in total (one on Friday and two on Saturday), presented by one of the group's journalists, with a theme to be confirmed. Consumers have to pay an extra ticket to take part in the masterclasses.


For tickets please go to: The Big London Christmas Wine Fest with Three Wine Men Tickets, Fri 17 Nov 2023 at 18:00 | Eventbrite