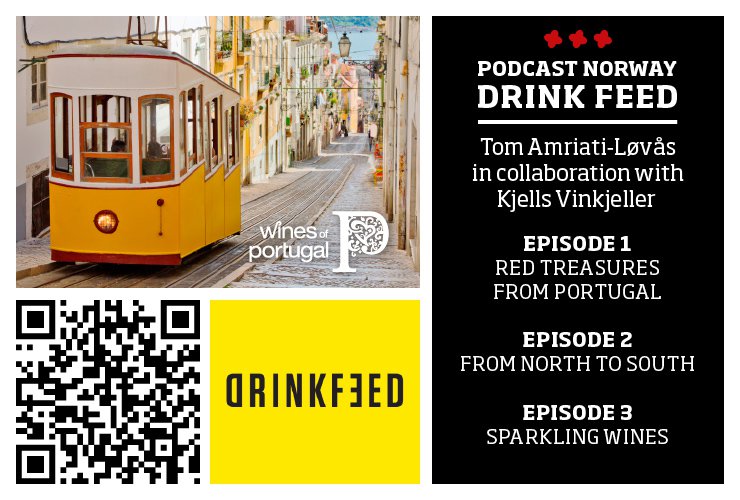 Event description
Wines of Portugal will implement a communication action through DrinkFeed Norwegian Podcast, presented by Tomas Amriati-Lovas.
The action consists of 3 episodes that will highlight 4 Portuguese wines in each session. The three episodes are exclusive to Wines from Portugal.
Tom Amriati -Lovas is a Norwegian journalist, podcaster and wine food and travel editor. He is the founder of the successful DrinkFeed podcast, a podcast with a focus on wine and drinks. The episodes have different themes, in which Tom and his different guests have a relaxed and entertaining conversation while tasting and discussing different wines. The episodes can be found on all major podcast/music platforms, such as Spotify, where they also list the wines they try in the episodes.
The podcast episodes are made and distributed in two versions: one with the DrinkFeed-jingle and the other with the Nettavisen subscription.
The episodes are promoted on various social media channels and private groups such as "God Vin", "Vin", "Vinforum" "Reiseksperten", " Kjells Vinkjeller" (Youtube and Snapchat), in addition to recommendation in "Nettavisen", the third largest digital newspaper in Norway, which represent over 65,000 organic reaches before any secondary sharing or paid reach.
The podcast is on all the major podcast sites (Spotify, Podcaster, Google podcast etc.)
Tom Amriati -Lovas will invite Norway's most renowned expert in Portugal as a special guest in all three episodes.
About Podcasts in Norway: Podcasts are very popular in the Nordics, with a lot of interest especially among younger people and the most common topics covered in podcasts are usually wine, history or gastronomy.