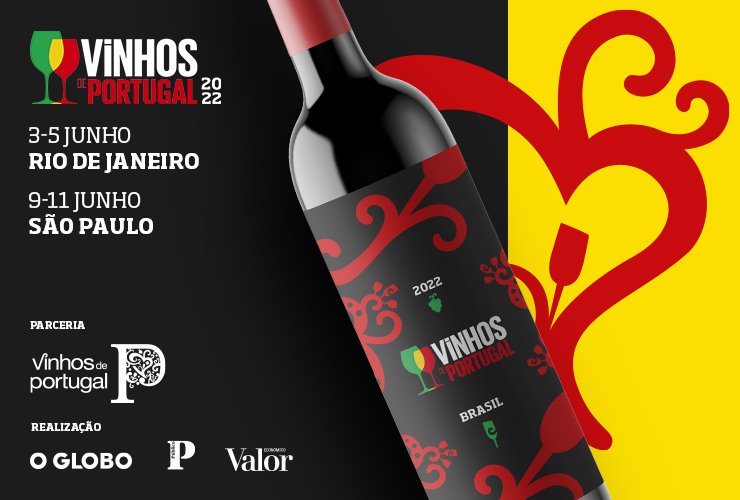 Event description
Wines of Portugal joins the 9th edition of the Wines of Portugal in Brazil, Face-to-Face format, an event organized in partnership with the newspapers Público, O Globo and Valor Económico.
In 2022, seeking to consolidate the conquest of new wine consuming public in Rio de Janeiro, the event will once again be held at the Brazilian Jockey Club, on June 3, 4 and 5, a place that provides large and open spaces, with a privileged view to the Corcovado, attracting a demanding public of good taste. A perfect match for an event like "Wines of Portugal in Brazil". This year's event will occupy two stands at the Jockey Club and will be the largest edition of "Wines of Portugal in Brazil" ever held in the city. The idea is to create "a huge Portugal" in the middle of Rio de Janeiro's south zone.
In São Paulo, the event will take place on June 9, 10 and 11, and will be held from Thursday to Saturday. Shopping Cidade Jardim is the chosen venue. Shopping Cidade Jardim is more than a mall, it is a shopping center inspired by the most elegant streets in the world. Not by chance, the stores all face modern gardens, thus creating an atmosphere that mixes charm and sophistication outdoors and terrace, a strong gastronomic side with several starred restaurants, besides cafes and Gourmet stores. It is one of the most sophisticated malls in São Paulo. The public is qualified and opinion makers.
During the 6 days (3 days in each of the cities) visitors will have the opportunity to taste Portuguese wines in a tasting room, allowing contact with Portuguese producers in an informal environment. There will be the opportunity to participate in several parallel activities designed for the event, such as the exclusive tasting for professionals; talk shows, commented tastings, pairings and a social area. There will also be a store in the conviviality area so that the producers can have their wines for sale to the public.
The Wines of Portugal in Rio intends to attract in the three days of the event more than 8 thousand consumers and professionals and continue to be the largest wine event in Rio de Janeiro. In São Paulo, it intends to expand the public of the previous editions and reach about 6 thousand consumers.