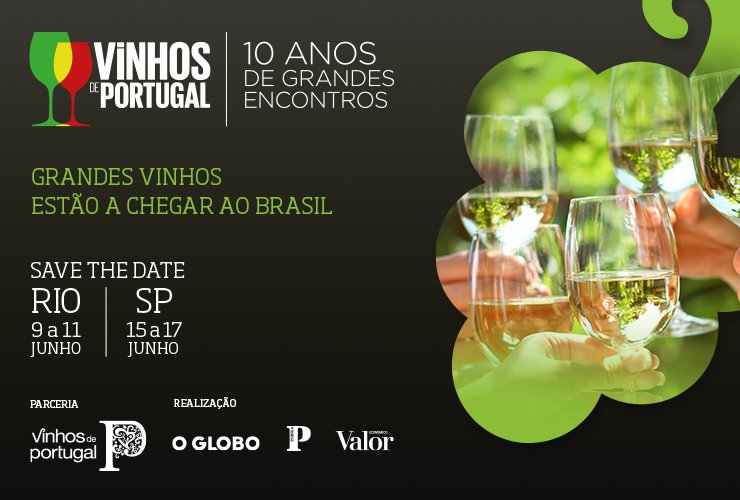 Event description
Wines of Portugal joins the 10th edition of the Wines of Portugal in Brazil, the largest Portuguese wine event in the country, organized in partnership with the newspapers "Público", "O Globo" and "Valor Econômico".
In 2023, seeking to consolidate the conquest of new wine consuming public in Rio de Janeiro, the event will again be held at the Jockey Club Brasileiro, on June 9, 10 and 11, a place that provides a open space, with a privileged view to the Corcovado, attracting a demanding and qualified public.
In São Paulo, the event will take place on June 15, 16, and 17, and will be held again from Thursday to Saturday. The JK Iguatemi, once again, is the chosen venue. Inaugurated in 2012, it is already one of the city's references, for its design with an outdoor space and terrace and a strong gastronomic presence offering more than 10 restaurants, besides cafes and gourmet stores, with a qualified and opinion-forming public.
During 3 days (in each of the cities) visitors will have the opportunity to taste Portuguese wines in a tasting room, allowing contact with Portuguese producers in a more informal environment. There will be the opportunity to participate in several activities designed for the event, such as the exclusive tasting for professionals (1st morning of the event and privileged access to the trade during the whole 1st day of the event) Talk shows, Wine tastings, Wine pairings, a social area and also a store offering Portuguese wines for sale to the public.